Hello and good morning to another challenge from
Stampin' for the Weekend
. Today we have a lovely theme, one of which I'm not that familiar with. Days Gone By - The team would love to see some vintage cards from you all. I loved going around last week and visiting all your fabulous takes on Vicki's Sketch!!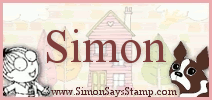 Heidi is offering one lucky winner a $25 shopping spree in their shop... How cool is that!!
Here is my take on this weeks challenge.
Little Sarah Kay image up close
And the flowers I coloured with
Copics hehe
Stamps :
Sarah Kay image sent to me by a good friend :D
Tools :
Retro Flower Punch M & L
Embellies :
Paper roses from stash, charm and chain from my shop
Medium :
Prisma Colour Pencils, Copics for distressing
Don't forget to pay the team some loving and see what they have done for their Vintage Style of Days Gone By Challenge Cards :D