For this weeks challenge, Donna has been a busy Gal and has come up with a fabulous Sketch for us all to do. The team have had lots of fun with it, so please head on over to thier blogs and have a peek!
We have two guest designers this week, it is
Lorraine's
last week with us (she's been having mega problems with her internet so we're all hoping she will be back to blogging soon), and
Lisa
is our second guest designer this week. She also has some beautiful cards, make sure you pop by and leave them some love too.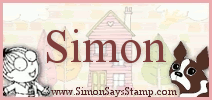 She is offering the lucky winner of this challenge a $25 spending spree :D Oh - How I wish I could have a spending spree lol
Here is Donna's fab sketch - check out all those layers, its a brilliant excuse to use all those gorgeous papers you have in your stash!
I've used my Miss Anya stamp for the first time today. My lovely DT Buddie Vicki sent me a couple to play with and although I've only coloured a couple and never used them yet I wanted the stamps myself, so I bought them lol...
I think she looks very pretty in blue and brown :D I didn't want her to have 'socks' so I have left them like net stockings, and just highlighted the 'net' so to speak.
I've used papers from Making Memories, its the Cosmopolitan Collection and I just love them. They are patterned on one side and a co-ordinating colour on the reverse. I will have to get me some more of this as I just loved using them! The ribbon and gems were from my stash.
I've used some paper that I've never used before to stamp on and its from Photo Paper Direct. Now you might ask why would I be using Photo Paper - I'm not :) Its a craft paper which they stock and I have to say I am really impressed with it. I've managed to get more shading on this image than I have on any other in the past. The paper is made for copics! Its heavier than the paper/card I use, at 280g its sturdy and cuts a dream in the Cuttle Bug too!
I was a little skeptical at first as I thought I would struggle, but its lovely. Its lightly textured and I think this is why the shading looks as good as it does. I will be having a go with some Prisma Colour Pencils and also my Watercolours to see how well it stands up to them in the near future. If your interested, you can buy it from here and they do single sheets if you want to try it first for a small price
Here is my little element for the top left corner - its a paper rose - again from Wild Orchid Crafts and I've highlighted it with a light shade of blue, and then spritzed with some Glimmer Mist.
For your chance to win that fantastic $25 spending spree, head on over to Stampin' for the Weekend, check out the Design Teams and Guest Designer cards and get creating. I cant wait to see what you all come up with!